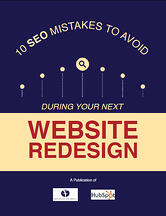 Redesigning your website isn't all glitz and glam, even though most people undertake a redesign to give their website a fresh new look.
However, keep in mind that you also have a chance to improve your site's performance in search, so you can get more traffic after a redesign if it's done with critical best practices in mind.
Still, we've seen far too many compaines overlook SEO best practices due to all of the moving pieces that go into planning and building a website. It's easy to put off important SEO tasks during development, because they just don't seem critical or you think they can wait until the site is live. But it's critically important to focus on the right SEO tasks early in the process in order to ensure that your site is ready to attract traffic as soon as possible after launch. You also don't want to waste time on SEO tactics that aren't very important anymore.
We've partnered with Hubspot to compile ten common SEO mistakes that you should avoid during your redesign. This ebook features tips and tricks from other inbound marketers as well.
Find out what the top ten SEO mistakes are by downloading this free guide. You'll be glad you did when your traffic spikes!