Need a Solid Content Strategy?
Not getting enough leads—or getting a lot of leads that aren't converting into sales?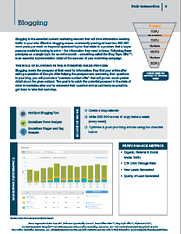 Our customized Content Marketers Blueprint (CMB) will tell you exactly what you need to do to generate leads, nurture them and convert them into customers.
Flair's team will guide you through a 45-minute discovery and brainstorming call and we'll help you document your current efforts and ideal state. We'll then create a completely customized CMB that will tell you what you need to do and when you need to do it.
This step-by-step guide will include a customized plan for a three-month period, including:
Specific SEO-friendly blog topics that you can use to quickly write blog posts

Landing pages that need to be created
Thank you pages to be created
Lead nurturing emails to be created
Clearly defined content workflows to be created
Premium content offers that you should create for the best conversion rates
Your customized CMB will tell you exactly what needs to be done in order to drive the most traffic to your site and convert the most leads into paying customers.
Fill out the form on the right to talk to one of our marketing specialists and schedule your discovery call.