Inbound Marketing Packages
Stop wasting time and money on outdated or ineffective marketing tactics.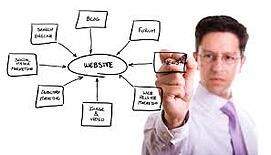 Do you want a marketing program that delivers significant, consistent and measurable results in both the short-term and the long-term?
How about one that delivers those results with a smaller investment than traditional outbound marketing methods—but a much higher ROI?
Flair offers several done-for-you inbound marketing packages utilizing Hubspot, the industry leader in inbound marketing, or their free Wordpress plugin. We are a certified Hubspot partner agency.
Key Benefits
Get a comprehensive inbound marketing strategy and tactical plan that will be managed and executed by 3-5 Flair team members on a monthly basis

Leverage award-winning online marketing tools such as Wordpress or Hubspot to create a modern, responsive and engaging web site, as well as a blog, emails, landing pages and forms

Gain a better understanding of the buyer's journey and how you can use it to get better results with your online marketing

Utilize one online marketing suite instead of separate, disparate tools

Get instant access to powerful analytics and metrics through unbeatable measurement tools

Work more efficiently and effectively, focusing only on the marketing tactics that are getting real, measurable results

Complete the form on the right to request more information about our inbound marketing packages.