Customized Strategic Game Plan
Learn where to focus your time, money and resources to get the highest ROI from your inbound marketing investments.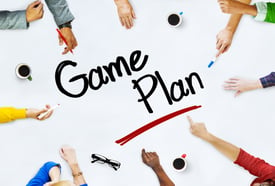 Have you tried to a lot of different marketing tactics, but you're not getting the results you need? Or are you not even sure where to start with your strategic planning?
Flair Interactive can work with you to create a customized inbound marketing strategy that will transform your business.
In just one to two weeks, you'll gain a better understanding of what you need to do to get optimal results from inbound marketing.
Key Benefits
A customized plan outlining the steps you can take during the next 90 days and within the next year to move your company forward at a faster rate

Analyze what you've already done to identify where your best leads come from, what tasks and campaigns aren't providing a good ROI and what you need to do differently to get better results

Find out how you compare to the competition in terms of rankings, organic and paid search, social proof and inbound links

Understand what makes your ideal buyers tick, how you can help them solve their problems and how to let them know about your products and services while gaining their trust

Identify marketing offers, blog posts and other tactics that can help you ramp up and see results much more quickly than doing it on your own

Optimize Hubspot, Marketo, Eloqua, ActiveCampaign or Wordpress to ensure that you're taking full advantage of all that inbound marketing has to offer

Turn your marketing goals into reality by outlining a clear path forward

Complete the form on the right to find out how an Inbound Marketing Strategic Game Plan can help you get better results in 2020.